Dr.Kamal Rizk Elsayed Youssef, General Manager of FalconMed, Egypt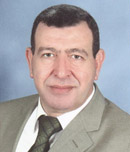 Dr.Kamal Rizk Elsayed Youssef, General Manager of FalconMed Egypt widely known for being the sole agent in Middle East and Gulf area at BODY DETOX "SWISS "for providing the various kind of claim investigation services in respect to various Medical services like TPA, National & International medical Insurance and health care services by Managing all type of activities pertaining to company employees health & medical entitlements.

He has got the great experience by virtue of his dedicated services put up by him by working as the Medical Director at Egyptian Holding Company for Airports & Air Aviation and earned the great expertise by providing the solution of various kind of TPA and other medical privilege as entitled by company employees in Egypt and other parts of Middle East and Gulf countries. Today his expertise is best utilized by the various clients who need to get his necessary supports for getting the TAP for cancer patients in Egypt and Middle East to get their treatment in St.George Clinic Germany for better and burden less cures. The experience and expertise in numerous fields has been satisfying the various medical claims related needs of the client by practically acting upon their request.

He has earned huge expertise by dedicated serving for people in offering the trustworthy solutions by giving the best ways to identify the fraudulent claims occurring in insurance companies located in parts of Egypt. and other locations like Cairo, Alexandria, Gizeh, Port Said, Suez, El Mahalla el Kubra, Luxor, Asyut, Tanta, El Faiyum, Ismailia, Aswan,Qena, Sohag, Beni and Suef. As results of that today he holds the huge competency to command his company for rendering the solution of entire insurance activities to curb the fraudulent claims by responsibly acting upon various medical insurance activities by giving best customer supports services and help line. He has established necessary rules of dealing with TPA's and giving the activities based on such restricted rules to all of them which included " Egymed , Care & Cure , Starmed , Pan Care and Pioneers Co.".

Today, FalconMed Egypt has become the best firm to offer exceptionally reliable solution of every medical claim activity in Egypt and middle East. The prime goal of this company is to handle Hospitalization, Disability and Death claims investigation around the globe and provide articulate Claims which can handled by them n approx. 55 countries located in Europe-Russia-Africa and all Arabic countries so as to generate the trust and honest in forwarding articulate insurance activities by minimizing any chance of Frauds in Insurance claims. This noble cause enabled him to create some of best insurance investigation services to achieve the sincere aim for the services of the people. Some of most desired activities offered by FalconMed Egypt are as follows:
Insurance Fraudulent Claims Investigations
Accidental Benefits/Vehicle Crash Claims
Life Insurance Claim Investigations
Property Claim Investigations
Travel Insurance Claim Investigations
Third-Party Claim Investigations
Medi-Claims Investigations
Personal Accident Claims
Death Verifications
Theft Claim Investigations
Subrogation & Recovery Investigations
Contestable Death Claim Investigations
Fatal Accident Investigations
For further information about him or insurance investigation services for getting fraud free services, kindly send your query on [email protected].